Is your ecommerce website being found in search engine searches? If not, what can you do to make your ecommerce website get found in Google search? This is the exact question I read from a desperate owner of a new online seller in one of the chat room i frequent in one of the social media platforms.
There is no acceptable argument to say that organic traffic is NOT the best kind of traffic, because it is! You'll want to be doing all you can to encourage more of it to gain sales for your eCommerce business. However, getting those beneficial free clicks, visits and purchases can be tricky if you don't have a good grasp on your Search Engine Optimisation strategy.
So, what should you be doing to ensure that your business is being found in search results?
#1. Foremost of your priority is to create unique and quality contents on a consistent basis.
This means unique product descriptions and titles. Don't use a repetitive formula for all your products, even if they are similar. Google loves websites, -ecommerce or not – that has fresh and relevant contents.
Why does Google love fresh and unique contents?
The simple answer is that, Google is a search provider. They want to display content results that are new. Imagine if all they could come up with are contents written 5 years ago, every time someone submits a query. I bet you, people are not going to like it. I won't like it either! As a content creator, you should take the time to not only check your personal site for duplicate content, but also to check that it doesn't match the product descriptions used by your competitors.
#2. This has been mentioned a lot on many pages, but a good Meta Description is an indispensable part of ensuring that your ecommerce website gets found in Google.
It encourages consumers to click on your site. With eCommerce, many consumers when searching Google to find what they are looking for are particularly swayed by a good meta description. Check this search results i got when search for the keywords "ecommerce + 'guest post'":
The link display above is listed 6th on the first page, but I clicked it because it gave me a really compelling description. You get what I mean?
Meta descriptions could be the difference between a customer clicking on your link, or the one above it or below it. Ensure that your meta description describes your link aptly and convincingly. This is why SEO helps ecommerce Google ranking.
#3. Put premium on page load speed when developing your ecommerce website.
Slow loading pages can easily put off consumers when they are trying to shop. Understand that we are living in a world of instant gratification. Imagine a customer trying to access your product page and it is taking eternity to load and then crashes when they are trying to purchase something. That is unimaginable in 2020's web speed.
Note: As the majority of online shopping these days is performed on mobile phones, it's imperative that you optimize your mobile loading speed.
#4. Implement structured data and schema to help Google interpret your contents better.
Structured data and Schema may not be a ranking factor but it is an essential part of content classification by Google. As more and more contents are created, it becomes harder and harder for search engines to properly interpret certain contents. Structured data and schema allows Google to do exactly that – read and interpret your content properly to enable them to display results better with rich snippets.
#5. Set SEO URL for search engines to avoid Google attempting to crawl through long and arduous URLs
Long URLS are common with eCommerce websites, due  to the nature of how the system runs. If your ecommerce system does not allow you to implement SEO friendly URLS, I suggest switching to one that does it good like prestashop-thirtybees. SEO friendly URLS are especially important for eCommerce websites which have hundreds of products. If you are using prestashop-thirtybees system, you can easily set up freindly URLs through the back office.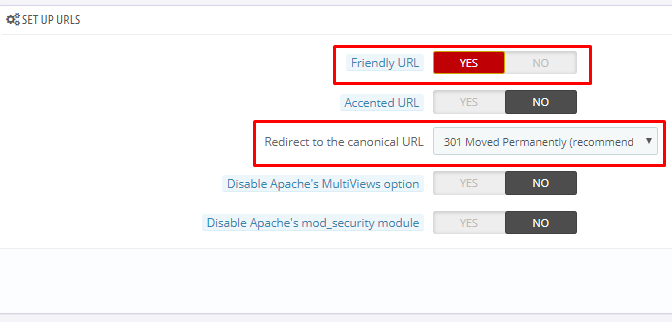 Check out the tutorial Optimize Prestashop-thirtybees seo-urls for Better Search Visibility.
#6. Established your link profile through link building.
Your link profile is the source of referred traffic to your website or product by external, established sites. The more links your have from other websites the better. Search engines interpret links to your website as a sign of authority and popularity. There are two ways to get your link profile built. You can do it free, or you can buy links from people who sells link building services.
One of the best source of free referred traffic is social media. Establish a social media strategy for your ecommerce asap, if you don't have one.
#7. Engage with people in your niche to establish your authority.
Share your expertise. Do not sell but give value to others. This way, you are establishing yourself as an expert and authority in your field. In time, it will encourage customers to act as your own personal salespeople through their reviews and comments of you. The greatest mistakes that merchants do when it comes to engagement is, they sell instead of engaging people. Of course we have to sell, but we have to be real people first. The great thing about having an eCommerce business is that you have a wealth of opportunity for customers to write and post comments, therefore promoting your business for you. Google loves testimonials, and enough of them could significantly help your rankings on the search engine.
In conclusion
Having an ecommerce website is just your first step to making sales. You have to do something so that Google search engine finds you and rank you. Work on these suggested to do list to ensure your ecommerce website gets found in searches.