There are a number of ecommerce seo tips your can implement to optimize your website to generate more traffic—such as by including calls to action and lead capture forms in the right places, providing the information your visitors are seeking, and making navigation easy and intuitive. Your goal when it comes to generating more website traffic is to be driving more qualified visitors to your site. That is, those who are most likely to convert into leads and customers.
These Ecommerce SEO tips are designed to generate traffic to your website to improve your rank which in turn juices more traffic from search engines, social media sites, etc. Although what you want to make sure is that the increase in traffic be associated with an increase in engagement as well. If your traffic is increasing but your conversion rates are decreasing, you're not bringing in the right traffic. Everything is going to start with generating more and more traffic first.
I have gathered 13 ecommerce SEO tips for you to  easily implement to generate more traffic to your shop
Tip #1. Every ecommerce website should have a sitemap. Install/enable your sitemap and set it to regularly generate and update your content links.
Prestashop-thirtybees ecommerce system comes with a fully loaded sitemap generator. Sitemaps are integral part of web development, especially if your website is an ecommerce one. In order for your online store to be visible to Google and other search engines, you must provide the search engines bots a map of all the contents in your store.
Sitemaps are your instruction manual for search engine robots, on how you want them to crawl and read your contents. If your instructions are not clear, search engines are not going to be able to read your contents properly. For example, if you have a link to a content in your sitemap, that content must exist. If that content is no longer published, the search engine robot will keep on looking for it, then return a report saying, they couldn't found your link. In time, it will give your website a negative reputation for bad links.
Additional source: Here is a tutorial on how to properly build store sitemap for google search
If you are using other ecommerce platform that does not come with a native or default sitemap module or plugin. Look for a free module/plugin created by third party developers. There are a number of great google sitemap extensions out there that you can freely use for most open-source ecommerce platforms. I cannot say the same with systems that are not open-source though.
Tip #2. Implement Schema and structured data
The goal of Schema.org is to be able to structure HTML in a more logical way by putting the important elements between specific tags, so that search engines can identify the types of data in the page. Currently it is not possible for Google to automatically display the price of a product in the normal results without schema, because Google cannot identify which kind of data structure to categorized a content, unless you give it a hand. This is where schema.org comes in.
Warning: Only apply correct schema and structured data to specific data types. Example, a HowTo schema should only be applied to "how to" article with images. A Reviews schema should on be applied to realty listings, property listings, and the like.
More and more ecommerce shops have taken advantage of a rather new but old way that Google parses data structure, – provided information that others do not, and the results have been in favor of those who uses schema.org structured data.
For additional resource check out how structured data improves a website ranking in google search
Tip #3. Focus on improving your anchor link text
The anchor element is often cited as the main building block of the World Wide Web. It is used to create a link to other pages, to anchors within the same page, to other resources (such as a PDF) or to an email address or another page. How can we make sure they are accessible to everyone?
Check out these bad practices of unhelpful anchor link text that often is found on many websites:
Anchor text 'click here', 'read more' and 'link' are bad practice because it does not provide the reader with useful information other than to say that it is an anchor text link.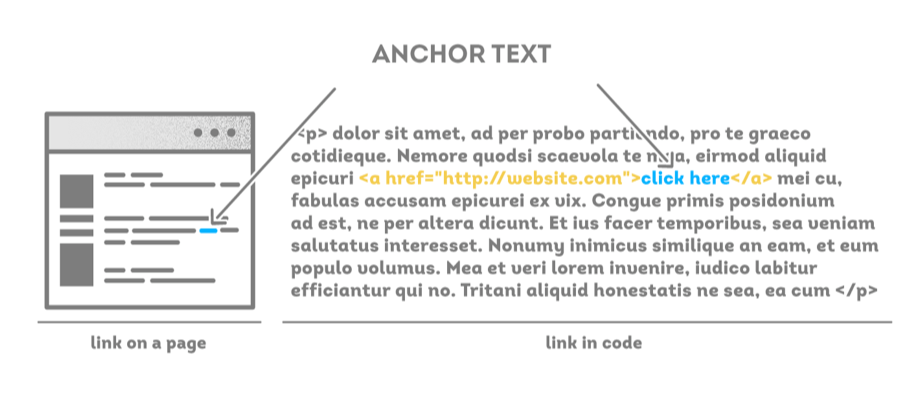 This is problematic because when a person using a screen reader is navigating using links alone these will be read out of context. Where would you expect any of those three links to go if you heard them? It's impossible to know.
A good rule  for building your anchor links is to describe the content you are linking to as clear as possible. If you are linking to page that deals with "used car in new york", you should use that same keywords to anchor your link, instead of just saying, "click here". Another excellent practice is to use the page title or the name of the file itself for the anchor text, like so.
Always remember to offer value to your potential customers.
Tip #4. Make sure your pages are responsive and displays well in both desktop and small devices.
According to report on world mobile users 2019,
There are over 2.5 billion smartphone users in the world. In 2016, more than 28% of the world's population owned a smartphone, and that number increased by four points the following year. The number of smartphone units sold in 2017 only exceeded 1.5 billion. According to mobile phone sales statistics, the percentage of the global population that will have a smartphone is predicted to reach 37% by 2020.
Clearly, a website's responsiveness to small devices or mobile devices should be one of the top priority for every ecommerce website owners and developers. Imagine the amount of sales you could lose if your website does not display right in small devices.
Mobile responsiveness is one of the most important elements of a ecommerce seo to make your website search engine friendly.
Tip #5. Another easy ecommerce SEO tip is to always optimize your images with alt tags.
ALT tags are the information that Google reads when reading your images. It is also the content that your browser loads when there is a problem loading your image. Make the description relevant to your image. It does not have to be long. For example, if your image is about organic foods, a good practice is to use that same keyword for your alt tag "organic food".
I must admit this is the element I always forget to do. Most of the time, I just click upload then attached in a hurry without getting into the details of on-page seo.
Tip #6. Do a keyword research, refine it, and do it as often as you need.
Keyword research is like a blue print for your ecommerce website. It gives you focus. Keyword research may sound like the most basic, and unimportant task. It can be, but it's still necessary to do every so often. I have been in digital marketing for more than half a decade now and have interacted with some of the biggest players in the business in both email and forums. And I am going to say this, the information out there is so immense, you can only gain a fraction of it. There is always something new to learn every time.
Keyword research is one of the more powerful ecommerce seo tips because if you do it, it is going to give you focus in your particular industry and niche, which can only translate to better success in traffic generation.
Check this additional resource discover your product defining keywords
Tip #7. A well-written product description has the power to move your customers through your sales funnel.
By educating customers on the key benefits, unique value proposition, and offering a solution to a frustrating problem, your product description can help get more sales, lower refund rates, and build customer trust.
The first step to writing a good product description is knowing who you are selling your product to. You description must be able to tell a story of the product in a way that cater to that particular audience. And of course, as previously mentioned, always optimize for search engine. Use your keywords without sacrificing readability.
Tip #8. Maintain content freshness for frequent indexing
The main goal of a search engine like Google is to offer the most relevant information based on user-provided search queries.
Give your website visitors what they are looking for. Write helpful, informative and clear copy. Write engaging pages that accurately describe your topic and how your offerings can help people fulfill their needs. Think about the words that your target user would type to find your website and optimize your pages around those keywords.
Additional resource for content freshness
Google has gotten smart in the last years. It knows exactly what pages of your website were updated and when.
Don't try to fool it by thinking that adding a new headline or a photo to your homepage will do the trick, you are wrong. You are just fooling yourself. Google is constantly looking for fresh content entries when it crawls your website ever so often.
Tip #9. Improve your page relevancy with your keywords
Page relevancy measures the relevancy of a page to the given keyword. … More specifically, "other people" are primarily other websites, and they indicate to search engines what they think a page is about by using related words in the anchor text of their links to that page
Additional Source for page relevancy
In simple terms, page relevancy is how much your page is relevant concerning a particular keywords. For example, if you are ranking for a keyword of "canvas shoes", this keyword should at least be used in your copy 3 times at the minimum.
Warning: Do not stuff your content with keywords that it demolishes the content's readability.
Tip #10. Work on good site navigation and offer a better way for customers to find your products while in your site
Navigation is important because your readers don't want to figure out how your website works. Good navigation can speed up the viewers search. Navigation on a website is mainly used so that the visitors have a good idea of what the website is about, without venturing around the whole website
Good site navigation does not only pertains about navigation menu, it also pertains to website structure.
Good site category structure is one of the most crucial aspects of a site's SEO performance, but on the other hand, few webmasters and owners understand what it means to have a site category structure that enhances their Prestashop website SEO.
Another thing you can do to improve site navigation tremendously is installing a layered navigation module or extension.
Tip #11. Work on improving website speed. Check and recheck regularly if everything is working and at speed as it should.
Your ecommerce website speed reflects how quickly a website responds to web requests. Speeding up websites is important — not just to site owners, but most importantly to all your users. Faster sites create happy users and we've seen our previous post that when a site responds slowly, visitors spend less time there.
There are things you can do to speed up your ecommerce website. Things like installing or implementing cache modules, optimize your css and js files, optimize your images, installing a fast and light ecommerce platform, and getting a robust and fast server.
It is a known information that a slow website hugely affects sales negatively. And a fast loading page greatly enhances ecommerce sales.
Tip #12. Keep publishing contents and pages.
Your frequently updated website offers search engines a haven for fresh content and sources of new information for their search requests. The same reason why a blog have become an essential part of an ecommerce website today!
Your website is a living, breathing entity on the internet. Every update you make to your website once it is "live" on the internet plays a part in its interaction with visitors, customers, and the powerful search engines. However, a static website without updates of any kind may be viewed by search engines as a "dead" entity – with no life and nothing new to offer.
Tip #13. Create Google My Business to generate more search engine traffic
This is why Google My Business checks out as the best free website traffic generator. It:
Is free and easy to set up your listing. Just go to Google my business and create an account. Google my Business allows you to show up for searches relevant to your business and location inside google system. It increases your visibility on a platform whose users have the intent to buy, And it drives qualified traffic to your site and your store. And more importantly, you customers have the opportunity to post reviews and even further boost your search engine presence.
Pretty cool stuff!
In conclusion
Getting ecommerce website traffic does not have to cost you monetarily, but it will require effort on your part. However, the effort you put in will equate to the quality of the traffic you generate.
Implement these 13 easy ecommerce SEO tips to generate more traffic to your shop as soon as possible and see your traffic go up.
Share this content to friends! Tell us what you think about these 13 tips in the comment section. ciao 🙂