Integrate a referral program system into your shop easily with thirtybees ecommerce referral program to grow you customer base.
To win new customers, it may be interesting to set up a customer sponsorship strategy. This recommendation-based system can bring you new buyers through your existing customers. Good thing is that, prestashop-thirtybees ecommerce comes with a native customer referral program modules that works like a charm, with little to no configuration needed at all.
But first let us get some useful info how a referral program is defined. If you don't know already:
A referral program is a deliberate, systematic way of getting people to make referrals to your business. Referral programs are often called word-of-mouth marketing, because they reward existing customers for sharing and incentivising new customers to try out your brand.
Referral program are like Sponsorship Program. One customer refers a friend and both he and his referred friend gets rewarded for it in their next purchase.
What is the idea behind ecommerce customer referral program?
The idea behind referral programs is to motivate your existing customers to earn credit on your shop by encouraging them to recommend you to their friends. This method can work as long as you already have a customer base and you sell products that you do not buy once in your life (the consumables are still best for you. Affiliation, because you have to buy them regularly).
However, it would be a mistakes for some shop owners to think sales will be go up exponentially, because because you run the referral program. To take advantage of this process it is necessary to define rules where everyone wins . The most important thing is to explain to your customers how it works. In my opinion, you need a complete CMS page that explains the details of the process with illustrations.
Why would Customer Referral Program work?
One possible explanation among others why referral programs might lead to higher customer profitability and loyalty is called social enrichment. Essentially, this explanation is that the bond that initially exists between the referrer and the referred-customer is an important part of why the referred-customer is committed to the business.
When running an ecommerce referral program, remember these three very important points:
#1. Give people a self-serving reason to WANT to talk about your product and refer you. If what you offer is uninteresting, people wont refer it. So, make a compelling reason for them to refer.
#2. Make it really easy for your customers to refer you and they'd be happy to do it!
#3. Get influential people to endorse you. There are "influencers" who can bring you new buyers (because they are looking for ways to save money). I see a lot of shops and yet, I seldom see them highlighting affiliate program. While it is not complicated to use, only a few really explains how this work to customers. In fact, if you do this, go extra further and make a video that explains your approach, why you put this program in place and why everyone is a winner (to reassure them too).
How to implement Customer Referral Program in prestashop-thritybees ecommerce?
Remember that the main concept of the ecommerce referral program is to reward customers for referring a new customer, and at the same time giving incentive to referred friends who signs up.
Installation of the Prestashop-thirtybees Referral module
Let us start with the installation of the customer referral program module. Login to your back-office dashboard. Go to the Modules and Services menu, and search for "referral". It should display a page like the one below. Click the install button. When the installation process is done, it should redirect you to the configuration page automatically, like so.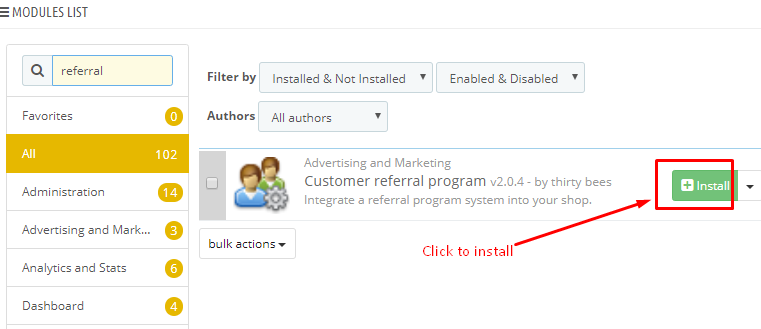 In the configuration page, there are a couple things you need to do to make this module really work for your ecommerce store. The minimum number of purchase and the number of friends to refer which refers to your customers account page referral section.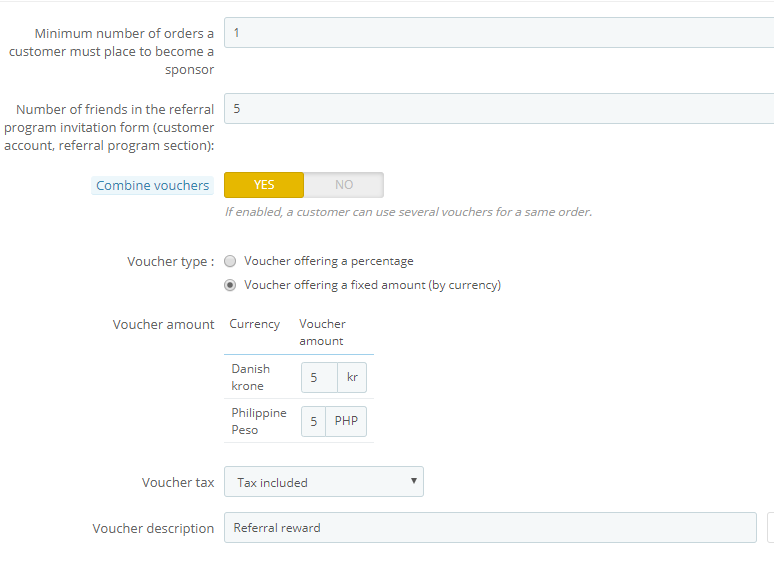 The default values are all good. You don't need to change anything here, except for the description at the bottom.
Give it simple description and then click Save to save your work up to here.
Checking the front-office to see if Customer Referral Program works
Go to your ecommerce front office, and login as a customer. Make a dummy purchase, and complete it. Now check your customer account page. You should be able to see your account page like the following screenshot.
Click it to open your Referral Program. At the referral page, enter the names of friends you want to refer, like so.
Click the "default email" link to check on the email instruction that is sent by the system to your referrals.
Click the check box to agree with the terms of service, then click Validate to complete the referral submission.
And you're done! Easy! Right?
Two reminders when using and running a customer referral program:
Write clear terms and conditions regarding the referral program to avoid conflict with unscrupulous users later.
Remember to explain the process of your referral system.
In conclusion
Ecommerce Customer Referral program is an important and powerful component for each online business. If you are just starting with your referral marketing campaign for your business, make sure that it's something that would be enjoyed by your customers and referrers. In this way, you can guarantee that you will achieve results and grow your customer base very quickly.
Additional resources on growing your ecommerce business:
Top 5 Tools To Improve Your Ecommerce website Conversion Rates
Help Grow Your Business With These Powerful Life Tips
3 Biggest Ecommerce Business Growth Factor Every Merchant Should Learn