The holiday season is just around the corner! It is the time prestashop-thirtybees holiday sale module rack up sale for your website and rake in profit! Are you ready for the big BANG! Will your ecommerce store take off this holidays?
Online sales are growing each year, and it looks like more people prefer to buy this way rather than standing in line  and fighting in stores for an Xbox. Last year online retailers reported a record-breaking $46.5 billion in revenue for the period of November 1 – December 31 alone!
According to the NRF, with major holidays such as Thanksgiving, Black Friday, Halloween and Christmas just around the corner, an NRF survey revealed that 179 million Americans are expected to spend as much as $9.1 billion—and that's just for Thanksgiving and Black Friday alone. Spending on costumes is pegged at $3.4 billion, candy at $2.7 billion and decorations at $2.7 billion.

Tony Bianci, a store manager for Halloween Adventure in New York, said that he does 60 percent to 70 percent of his business in September and October. The most in-demand costumes include Wonder Woman, and characters from "Descendants" are popular among kids.
60 percent to 70 percents of business sales are made from September to December!
With all these data, it would be wise to prepare your prestashop-thirtybees holiday sale module for your sales campaign for the holidays NOW!
How might you prepare your Prestashop or thirtybees ecommerce website for the holiday season?
First thing you do is to NEVER make any major changes to functionality. This season is the time to make sales, this is not the time to make changes! But if you do want to make changes, just a little cosmetics to reflect the holiday season would do.
Check you server to see if it is flexible enough to handle a spike in traffic?
Test and retest the strength of you ecommerce website security.  You don't want hackers to hack into your system at a time where  you are making the most sales, right?
Double check on you  holiday shipping deadlines.
Optimize you webiste for the holidays with a Holiday Sale Module.
The Prestashop-thirtybees holiday sale module
Prestashop-thirtybees holiday sale module helps you maximize the revenue of your sale campaigns. The addon displays sales countdown timer in single product pages. And Encourage customers to purchase by creating urgency psychology.
Holiday Sale module is a great and effective module you can use to generate revenue for your ecommerce website this coming holidays. You would not want to miss this module this coming holidays!
Prestashop-thirtybees holiday sale module FEATURES
Let's take a look at the features to provide you an idea of this powerful tool you can use this holiday season:
1. Holiday Sale Module is Optimized for SEO.
At the configuration page of the module you can set the "Holiday Name", in this case, "BLACK FRIDAY". The powerful thing with this module is you can optimize it for SEO. Add in you Meta Title, "Shoptech.media, black friday test" sale!
You can even enter a unique "Meta Description" for your campaign, like so. And you can set the language to the language of particular country!
2. Holiday Sale Module have product friendly URLS.
Our Holiday Sale module allows you to give your sales campaign a description easily. It comes with the the robust tinyMCE html editor for great user interface to format your content. You can insert photo or a video of your choice, set anchor text as much as you need.
The best thing is that you can set a Search engine friendly URL for your holiday campaign lie "black-friday", so you can have a url of "https://www.yourwebsite.com/black-friday" instead of "https://www.yourwebsite.com/product_12345". This comes in handy for search engines optimization, like so.
If you know HTML, you can add your html elements and assign it a class easily. Just click on the "</>" icon, like so.
Here I add an extra "div" tag with a class of "black-friday" to give it some styling. More on that later.
3. You can set Product Marker for Product on Prestashop-thirtybees holiday sale module
Another really cool feature is you can set a marker to the product you have assigned as the product on sale for your holiday campaign! This way, your customers will be able to see which product are on sale on that particular holiday sale. And you can set as many as you want. We will tackle this later.
You can set the background color as you like and the text color, like so.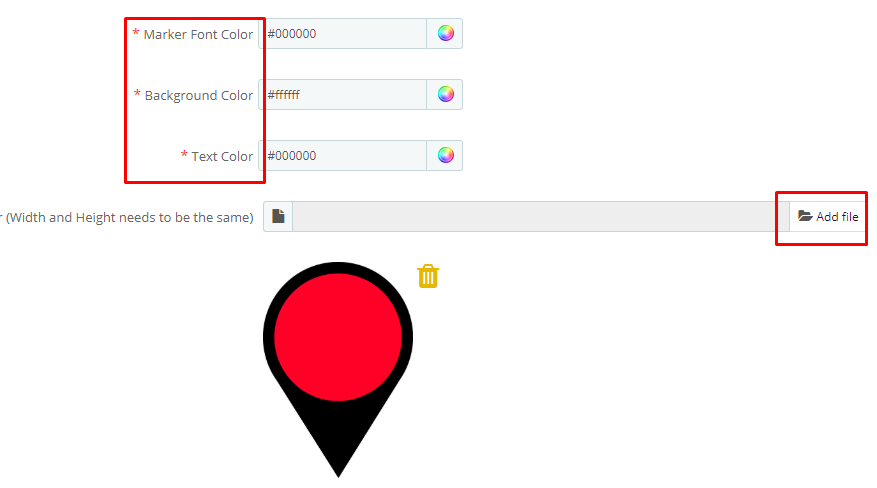 4. Holiday Sale Module displays a Countdown timer
The addon displays sales countdown timer in single product pages of your Prestashop or thirtybees website like a separate product. The clocks will notify customers when will the sales end.
Prestashop-thirtybees Holiday Sale Module  allows you to schedule sale time by date. With Sale Countdown Timer you are able to select specific sale time by hours and minutes.
What is cool about this is that, it is easy to set the values from the module configuration page. Enter your Holiday Sale Starting text like "Countdown to Black Friday!" and the Ending Text like "Welcome to black Friday!". The ending text will automatically display once the  count down is over.
5. Easily Set Holiday Sales Starting and End Dates Easily
You can disable or enable the countdown as you like, set the "Release Date" or Starting date of the campaign and the "End Date" of the campaign period.
6.Easily Hide and Show Holiday Sale products
Another cool feature of Prestashop-thirtybees Holiday sales Module is you can hide and show the products on sale with just one click. No hassle at all!
Holiday Sale Module acts like a landing page for your holiday sale campaign!
The use of landing pages are indespensable in todays ecommerce world. More and more ecommerce website appreciate the power of landing pages. The reason is quite simple, it is necessary that the user understands what is expected of him and for that it is necessary to condition his mind. If the intermediate page says for example "It's an offer that will never happen again and the offer is valid until tonight …" the sense of urgency increases. This way of doing things is different from just showing a product and its price … through this landing page we put forward the arguments of "why it's great",  we must excite the desire to buy.
Holiday Sale Module is powerful for upcoming sale event.
When you schedule a sale campaign in future(Black Friday is 2 months away as of this writing and a good time to run your sales campaign leading to the event). Holiday Sales module acts as a landing page for an upcoming Black Firday sales even in a single product page. Your visitors will love it and your customers will have a way to pre-order the discounted product on sale!
You might be asking,  do I have to have this landing page?
The proverbial "Proof is in the PUDDING!" Is never been truer with landing pages. Take a look at this data:
Average Landing Page Conversion Rate
The average landing page conversion rate falls around 2.35%. The top 25% sites are converting at 5.31% and above, while the top 10% are looking at 11.45% and above.
Some of our clients reach as high as 15% conversion rate!
Sometimes it all comes back to visual impact. If you chunk out the action in small bites so it's easy for visitors to complete, they may be more willing to do it. Our holiday sales module does just like that!
Start creating holiday sales landing page now and Rake Up Sales with Holiday Sale Module for Prestashop and thirtybees Website!
Helpful resources for your ecommerce website:
If you are looking to speed up your prestashop-thirtybees ecommerce website to a page load speed of less the a second, do it with Cache-API module for prestashop-thirtybees.
Check out this post to see the importance of a blog module for prestashop-thritybees ecommerce.
Stay ahead of your competition in search engine results with Schema Pro module for prestashop-thritybees,
Rack Up Sale for Your Website with Prestashop-thirtybees Holiday Sale Module