To Build Prestashop-thirtybees sitemap is a integral part of web development, especially if your website is an ecommerce one. In order for your online store to be visible to Google and other search engines, you must provide the search engines bots a map of all the links in your store.
Sitemaps are your instruction manual for search engine robots, on how you want them to crawl and read your contents. If your instructions are not clear, search engines are not going to be able to read your contents properly. For example, if you have a link to a content in your sitemap, that content must exist. If that content is no longer published, the search engine robot will keep on looking for it, then return a report saying, they couldn't found your link. In time, it will give your website a negative reputation for bad links.
Build your Prestashop-thirtybees Sitemap as an instruction for search engines robots.
Google search engine and all the major search engines are quite capable of automatically finding the links that make up your shop through the robots. But crawling is not so simple. You have to tell it how you want your site to be crawled and how to find each content. This would also include the publish date and date of modification. It is therefore necessary to use Prestashop-thirtybees sitemap properly to maximize this versatile SEO tool. Google is so smart it can quickly update its index as soon as you changes are made in your store's content. But again, you have to give out the instruction.
3 Major mistakes to avoid when you build your prestashop-thirtybees sitemap
As mentioned above, sitemaps are your instructions for search engine robots on how to you want your website to be crawled and reported for search result. it is an underappreciated tool for SEO, because there are a lot of site owners who takes sitemaps for granted during development. Only taking care of it when they start asking why their contents are not showing up in google search. So, avoided the following mistakes when putting a sitemap in place for your ecommerce website.
The first mistake is NOT SETTING up a scheduled task for new contents to be generated, so the sitemap does not refresh properly.
The second is NEVER checking if the sitemap is working properly, ie to check that the ".xml" files are modified on the FTP.
Finally the third is FORGETTING to submit the sitemap through the Google Search console, to ensure there are no errors reported (after a few days).
Let's dive in straight to this tutorial
First thing to do in building your prestashop-thirtybees sitemap for google search is to install the Google sitemap module for Prestashop- thirtybees.
To do this, login to your back office, then go to the Modules and Services menu. Search for sitemap. You should see the Google sitemap module listed to the right, or in the case of thirtybees 1.1.x versions, simple "SEO Sitemap."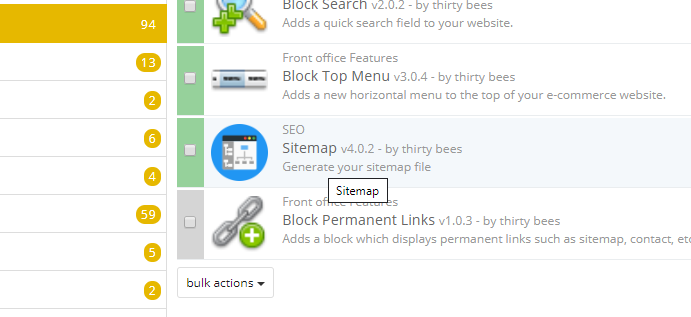 Installing and configuring your Google Sitemap module for prestashop-thirtybees
Click on the Install to install, or Configure to start building your sitemap.
In the configuration page for your Sitemap module, you should be able to see the page like the screenshot below:
Set up a scheduled task
The first thing to do here after installation is to set up how often you want your website to update your sitemap. The most common is to update it on a monthly basis. Leave the "
There a at 2 ways you can update your sitemap,  either on your server / hosting or  via manual generation. For the sake of this tutorial,  we will use this native Prestashop-thirybees sitemap generator form.
Setting up pages to exclude from your sitemap build
Now that you have scheduled how often you want to update your store sitemap, let's determine what contents to exclude in the sitemap. We don't want search engine robots to keep reporting a content that are user generated or content we have no control over.
Below is a screenshot of the pages and contents to exclude from your sitemap as you start to build it.
It is of absolute importance that you follow and check only what you see in the image above. You will learn of it's significance once you get to know your ecommerce website deeper. But for now, it is enough that you follow the instruction. You may experiment on it later on.
Generating your website sitemap for Google Search console
After having all the necessary contents excluded and checked. Click the "Generate Sitemap" button. This may take a while to complete. Do not close the browser or go to another page while you are generating your sitemap.
After the process of generating your Sitemap is completed, scroll to the top a little bit, and copy the URL, just like in the screenshot below, like so.

Save this URL in a text file. You are going to use this later in the google search console.
Double checking your sitemap through FTP or Cpanel.
Login to your FTP or Cpanel, and go to you root directory. Usually this is "public_html". Open it and look for the file "1_index_sitemap.xml." If all is well, you should see it nested among your core files. If you see it, then your sitemap build was a complete success! Congratulations! You now have a working ecommerce sitemap for search engine bots!
Let's Tell Google about your sitemap
Your task is not yet done at this point! You still have to tell Google about the sitemap you just generated! Otherwise, it won't know why that sitemap is there.
To do this, access your Google Search Console account. You should find it using this link search.google.com/search-console.  Once logged in, add a property, after that, add your sitemap under "Exploration -> Sitemaps".
Remember to check the result of your sitemap 48 hours or two days after submission.
Check out previous Prestashop-thirtybees tutorials here.
And that is How you build prestashop-thirtybees sitemap properly.
Hope you enjoy this tutorial. And you have learned much. Let me know in the comment section about your thoughts. And please do me a favor by sharing this to twitter and social media accounts. Thanks. ciao 🙂