Drop shipping has become a buzz in the ecommerce world these days and for plenty good reasons, and along with it comes the common drop shipping problems every drop shippers face!
You just need to check out reddit to confirm it. Drop shipping is easily one of the hottest topics that generates a lot of comments and reactions. And I don't see any light at the end of the tunnel telling me it is going to subside soon.
Why Drop Shipping is a hot topic for ecommerce merchants?
The biggest reason why drop shipping is a hot topic for ecommerce merchants is that, drop shipping appears to be an ideal way to start an ecommerce store and it seems so easy to do too for many. Let's take a look first at the advantages and disadvantages of running a drop shipping ecommerce store.
Check here on how much dropshipping contributed to the overall ecommerce economy.
Advantages of drop shipping at a glance.
You don't have to hold any stock.
Your financial involvement is minimal. Hell, you can start a drop shipping eCommerce store for almost nothing.
You don't have to worry about fulfilling orders and, a thing that attracts so many to this form of eCommerce,
You can run it practically from anywhere. You can be sipping your coffee in the hot Rio morning while your running a drop shipping store from the US.
Major disadvantages of drop shipping you might need to know.
When you run a drop ship business, you are ultimately giving away the control of a massive portion of your business to someone else.

It is not you but a producer or a drop shipper that process your orders.

You have very little influence over when that's going to happen. You might be on top or at the bottom of a queue but you simply don't know.

You can't control the packaging and what goes into the pack and all that is just the tip of the iceberg.
In short, after you have passed on the order, your control over what happens with it ends. And this is where most drop shipping problems starts to crop up.
I want to help you be better equip to deal with common drop shipping problems
If you are thinking of starting your drop shipping business, hold on it for a thought. I want to help you have a better understanding and be better equip to deal with the common drop shipping problems that drop shippers face. What follows is a list of the most common issues and problems you will most likely come across doing drop shipping business. I also did a research on what to do once those problems starts flooding you so that you can solve them as they come.
Let's dive right in!
How to Solve the 5 Common Drop Shipping Problems every drop shippers face!
#1: The "Item Out of Stock" problem!
The dreaded "Item Out of Stock" message is probably the most common of all problems you will experience drop shipping. No matter how producers and order fulfillment companies try hard to keep their ecommerce partners informed about the availability of the product, it is never a guarantee that that product someone ordered from your store is available at the point of delivery.
Two reason might arise from this:
One, is that the producer run out of stock; and
Two, it has been completely discontinued without you knowing it.
How to handle the "Item out of stock" issue.
Get on the phone and give your customer a call. Be upfront and personal. This is NOT a good time to send him an email. If possible, try to source a product from another supplier. Alternatively, see if you can get a similar product by another producer. Suggest any alternatives you might have to a customer. Quite often they will be happy to change their order to another product.
#2: The "Order Processing Delay" Problem
The second most common drop shipping issue every drop shippers face is the "Delay with Order Processing" problem. You received an order through your store. Straight away you rush to place it with the producer and await for it to be processed, so you could inform the customer that it has shipped and pass the tracking code to them. Yet, the order confirmation does not arrive.
What to do when the order processing is delayed.
Follow up with your supplier immediately. Customers are used to have their orders processed within 24 hours too. Even if the order isn't processed within that time, you at least know the reason and approximately when it's going to happen. Always take the initiative before your customer calls you about the order. Running an ecommerce store is 99% trust issue. You have got to be proactive on this.
#3: The "Wrong Item Sent to Customer" Problem
This happened to me less than a year ago. I ordered a 6 inch diameter medicine ball for my daughter but when the item arrived at my door, I was surprised to see that it was not a 6 inch diameter but a 4 inch diameter med ball. I almost refused to accept the item, but did after a few minutes of thinking. I message the seller and give him a few words to let him know the mistake. But not many customers can be forgiving.
Shipping a wrong product to a customer is a bad customer service, fact. It always leaves a bad impression regardless of a good will of the customer. And no matter what the circumstances, it is always the drop shipper who is the guilty party.
This is one of the most unfortunate aspects of drop shipping. No matter what the mistake and who made it, it is always you and your reputation that suffers.
How to do you handle it when "wrong items are sent to customers".
Have a good grasp of your producer's or drop shipper's return policies. This will come in handy when a complaint from a customer comes. You will be able to instruct them on what to do straight away. Secondly, offer your customer a discount on his future purchases as a token to apologize for your mistake.
Always review the invoice from the drop shipping company. They usually send them before goods leave the warehouse and if you notice a wrong item or wrong quantity on them, ring them straight away and stop the order from being shipped.
#4: The "Shipment Went to a Wrong Address" Problem
Sometimes we have delivery boys knocking on our door, and we are like, "Did you order something? Or are we expecting a delivery?" It happened to us a couple of times. The delivery was for another person, but for some reason the address in the delivery receipt points to our house.
We know that different producers have different ways of handling orders and delivery. Some want you to email them over, others prefer you to order by phone. And as much as email greatly reduces the chances for a spelling error, or the one in-charge just got mixed up and a wrong address instead is entered. But this easily happen on over the phone purchases. Orders get shipped to an address that doesn't exist or different address. Or to a completely different person.
How to handle things when "items are sent to a wrong person".
Get a proof of the shipping address you have supplied to the producer or drop shipper immediately. Trace where the error came from as soon as you are notified of the problem. Offer to reshipped the item as soon as possible without additional cost to the customer.
#5: The "Item Arrived Damaged" Problem
This is probably one of the most embarrassing problem every drop shipping merchants face. There are a lot of complaints like this in the internet. Let us take for example a "Customer Return Information" sheet posted by a frustrated customer of one of the biggest ecommerce store in the world today!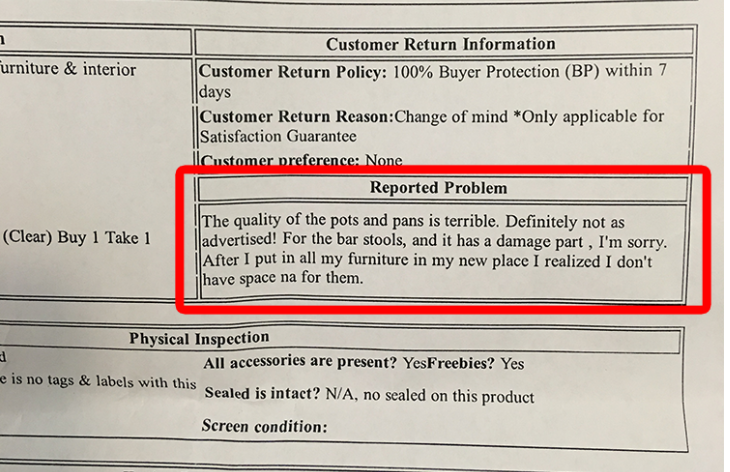 This one was posted by someone who received a delivery of a broken item! She bought an item that has a "Buy 1 take 1" promo. But received a damaged second item instead.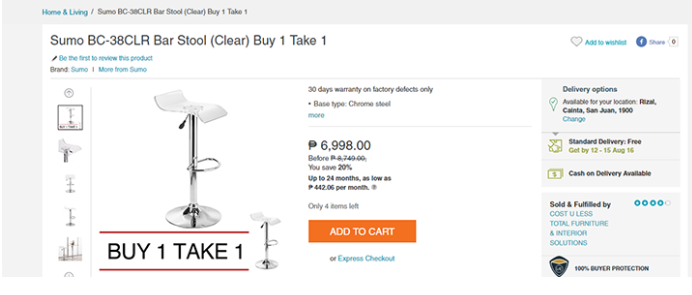 Here is what the customer posted on social media about this experience.
It's unacceptable that they delivered a damaged item even if they already know that it's damaged. The report pasted on the box is very clear, so I don't understand why they'd send it to a new buyer.
Will I buy from XXXXXXXX again? Never!!
How to handle when an item arrived damaged.
Once again, check your producers' return policy. This problem is actually pretty easy to solve. In most cases, the producer will ship out a replacement part or the whole item. Knowing your producers warranty terms and conditions will go a long way in resolving issues like this.
Be available for your customers when an item is delivered damaged.
There are other issues facing drop shipping ecommerce stores everyday like wrong tracking code or a customer was billed wrong, or perhaps a qrong quantity was delivered. But these 5 problems listetd above are the most common that we can find happening in drop shipping business today.
Additional Resources on drop shipping business:
Guarantee A Successful Drop shipping Ecommerce Website
Running a drop ship business may seem like an easy thing to do. Unfortunately, in such a business model you will have to rely heavily on a producer whose products you use or a drop shipping company they use to ship their goods, in which you don't have control of. And as always when you leave the control over such an important aspect of business to someone else, mistakes can happen.
Let us know what you think of these 5 most common drop shipping problems and the solutions given here. Do you agree with the solution? Let us know in the comment section. Do you have ideas about resolving some of the problems? Please be generous in sharing it.